The moment you start reading about the government warning its citizens to stay away from sugar, then you realize that although the warning sounds dire, it is well intended. When you're asked to reduce your sugar intake, the red light has started blinking on health authority's computers and the United States Department of Agriculture is probably up to its neck receiving reports from panicked dieters, health experts and foodies alike, warning about the consequences of uninhibited sugar intake, and with good reason.
This must be the first time the government is elevating the sugar epidemic code to disaster status and has issued sugar consumption guidelines, recommending that consumers keep their consumption of the sweet stuff to not more than 10 percent of total calories intake. That translates to about 45 grams per day or 175 calories for women and 180 calories and 60 grams for men. Just to put things into perspective, the average adult consumes a whopping 80 grams of added sugar per day, according to Center for Diseases Control.

Health conscious person
If you're looking to remain a fit and health conscious person, you need to take a cold hard look at your plate. Even if you're not wolfing down two huge steaks and potatoes and gallons of ice-cream, and guzzling down cans of coke on the bargain, that doesn't mean you're in the clear.
Added sugar is often to be found in foodstuffs you least expect to see it. That donnut and cappuccino, the afternoon snack and after dinner dessert could be the reason your mid-riff is not getting any slimmer.
These days its even more difficult to recognize sugar at all in many foods, as it's added to many diets that don't also taste that sweet all, like condiments, sauces, and bread. Although women are recommended no more than six teaspoons of sugar per day, most are known to consume double that. And here we talk about added sugar, and not the natural sugar to be found in fruits.
A high sugar diet results in diabetes, heart disease, and tooth decay.
The good news is that its possible to cut back sugar intake. To help you reduce again and ward off lifestyle diseases as well as high blood pressure, we have come up with a list of easy ways to cut down your sugar intake. And this doesn't mean you dump your favorite delicious foods: Here are five ways to cut down your sugar intake:
Buy unsweetened
Buy foods with labels that read "no sugar added" or "unsweetened." Food companies are smart and will try to hide sugary ingredients as much as possible. But once you know how to go about it, you'll find many unsweetened versions in many grocery stores.
Opt for protein and fat
The combination of carbs and sugar often cause blood sugar to rise in your body making you hungry. To minimize the rise, combine protein, fiber and healthy fats with your meal. This will slow down the release of blood sugar and keep you feeling full longer.
East dessert
You can still indulge in a sweet treat once in a while, but the trick is to learn not to overdo it. Make some specific rules about the best times to enjoy dessert. A good time to start is after dinner during weekends.
Buy real cream, not milk
An average cup of milk contains about three teaspoons of sugar as lactose. If you remove the fat from the milk, what is left is composed of sugar and water. Also, most packaged milk products are loaded with sugar. The best option is to buy the whole cream.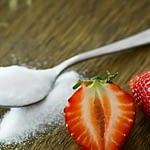 Avoid the cold turkey route
Avoid cutting off sugar abruptly. Cut sugar intake slowly. If your daily dose is three packets in your coffee, try two for one week, then one the following week. Then half and finally add only a little milk.